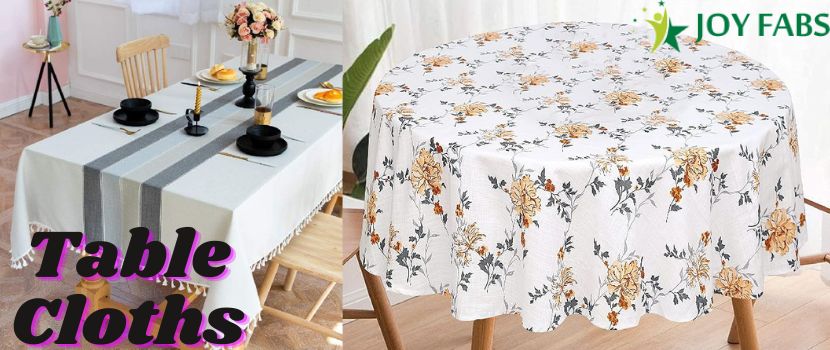 A table cloth is a simple yet impactful addition to any dining space. Not only does it protect and enhance your table's surface, but it also adds a touch of elegance and charm to your decor. Whether you're hosting a formal dinner party or enjoying a casual family meal, a well-chosen table cloth can transform your dining experience. In this article, we will delve into the benefits and versatility of table cloths, along with tips on selecting the perfect one for your needs.
1. Protection and Durability
One of the primary functions of a tablecloth is to safeguard your table from scratches, spills, and heat damage. Investing in a quality table cloth can help maintain your table's pristine condition, ensuring its longevity. Whether you have a delicate wooden table or a durable glass surface, a table cloth acts as a protective barrier, giving you peace of mind while adding a stylish layer to your dining area.
2. Aesthetics and Ambiance
The products offered by table cloth manufacturer are an excellent way to enhance the overall aesthetic of your dining space. They come in a variety of colors, patterns, and textures, allowing you to create the desired atmosphere for any occasion. For formal gatherings, consider an elegant and classic white table cloth, which exudes sophistication. To add a pop of color and a touch of playfulness to your everyday meals, opt for a vibrant or patterned table cloth. The right choice of table cloth can instantly transform your dining area into an inviting and visually appealing space.
3. Versatility for Different Occasions
One of the greatest advantages of table cloths is their versatility. They can be easily swapped out to match various occasions, themes, and seasons. For festive holidays, opt for a table cloth with holiday-themed motifs or colors. During the summer, choose light and breezy fabrics that create a cool and refreshing ambiance. For more formal events, consider a table cloth with fine details or an embroidered design. With a collection of table cloths, you can effortlessly adapt your dining area to suit any event, creating a memorable experience for your guests.
4. Easy Maintenance and Cleaning
Contrary to popular belief, table cloths are not high-maintenance items. In fact, many table cloths are designed to be stain-resistant and easy to clean. For everyday spills and messes, simply wipe them off with a damp cloth or sponge. If more thorough cleaning is required, table cloths can often be machine-washed, making maintenance a breeze. It is recommended to follow the manufacturer's instructions for cleaning and care to ensure the longevity of your table cloth.
5. Selecting the Perfect Table Cloth
When choosing a table cloth, there are a few factors to consider, such as size, fabric, and style:
- Size: Measure your table accurately to determine the dimensions of the table cloth you need. A properly sized table cloth should hang over the edges of the table by a few inches to create an elegant drape.
- Fabric: Select a fabric that suits your needs and the occasion. Cotton and linen table cloths are durable and versatile, while satin and silk add an element of luxury and formality.
- Style: Consider the overall style and decor of your dining space. Opt for a table cloth that complements the existing color scheme and furniture. For a more cohesive look, coordinate the table cloth with other table linens, such as napkins or placemats.
In conclusion, a table cloth manufacturer offers more than just a practical accessory for your dining table; it's a design element that enhances your dining experience. From protecting your table to adding style and ambiance, a well-chosen table cloth can elevate the look of your dining space. With a wide range of options available, you can effortlessly customize your table cloth selection to match various occasions and create lasting memories with family and friends.