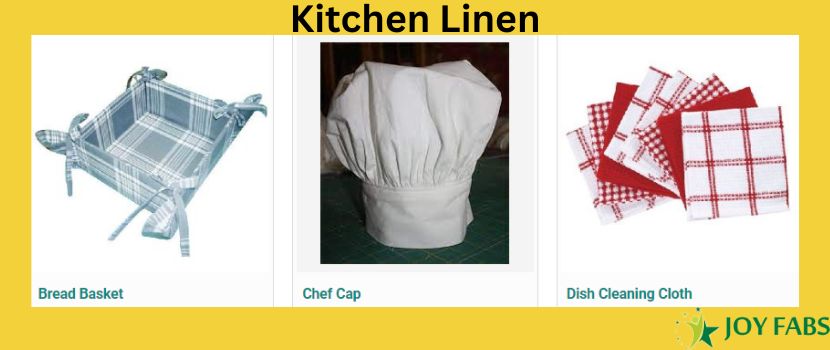 A highly adaptable material is linen. It has several features that make working with it simple. Due to their lack of roughness, linen fibres are most frequently utilised in clothing and bedding. Additionally, a variety of textures, patterns, and colours are available. Each item of linen fabric from Kitchen Linen Manufacturers is therefore both professional and informal at the same time.
Linen Fabric:
The word "linen" is a long-used substance that comes from the Latin word "flax." Due to its absorbent and breathable qualities, linen is most frequently associated with warm-weather clothes. Nevertheless, it is also used to manufacture several home goods and textile products, including kitchen linen, bathroom towels, and many more. The easiest way to define linen is as a fabric created from extremely fine fibres obtained from the flax plant.
Surprising Uses Of A Kitchen Towel:
Prevents Chopping Board From Sliding -
The best-kept restaurant business secret is that each cook places a moist towel under their cutting board. It prevents the board from moving so you can concentrate on sharpening your knife skills while chopping your vegetables quickly.
As A Pot Holder -
When the towel is folded over itself several times, it functions as a potholder just as well. Before grabbing that hot pan, just make sure the towel is dry. Some people find out the hard way, but the damp fabric will conduct heat.
Wring Out Watery Vegetables -
Super-dry potatoes are the foundation for delicious potato latkes or hash browns. Use a strong kitchen towel to squeeze the water out of the potatoes. Simply pile the shredded veggies in the towel's middle, tuck the edges in toward the centre, and twist until you run out of twisting motion.
Substitute for Cheesecloth -
Use a kitchen towel in its place if you don't have any cheesecloth close at hand! You may use it to filter yoghurt to produce Greek yoghurt, or you can pour your stock directly through the towel to remove the aromatics. When finished, squeeze it out and place it in the washing machine.
Whisk Easier -
Put a kitchen towel below your mixing bowls, much like how we did it with the cutting board. You won't have to deal with a sliding bowl's discomfort as you whisk away. It is extremely helpful for creating homemade aioli or whipping egg whites to stiff peaks.
Save Your Table From Marks -
Use an ordinary kitchen towel in place of a trivet if you don't have one on hand. To produce a tidy square, simply fold the towel over twice. After that, put it below any hot cast iron or casserole plates.
Keeps Your Herbs Fresh -
The easiest method to prevent herbs and delicate greens from getting limp in the fridge is to do this! They only need to be rinsed, have the bottoms of the stems cut off, and then loosely wrapped in a moist kitchen towel. They will remain fresh for two to three weeks if you store them in the bottom drawer.
Protection Of Hands -
This one will undoubtedly dye your towel a bright shade of red, but it won't leave any stains on your hands. Cook the beets in their skins rather than peeling them by hand. Once the beets have been cooked or roasted, use a cloth to remove the skins, which will come off easily.
Use a reusable towel to keep your meal warm and reserve the aluminium foil for cooking in foil packets. Simply cover bread or biscuits with the range offered by kitchen linen manufacturers to prevent them from getting cold. When having a backyard BBQ, it's also an excellent method to keep mosquitoes off the food.